Terabytes of images can be turned into a fast zoomable map within reasonable time manner with MapTiler Cluster. It is possible thanks to cluster technology, which allows splitting one big task among multiple computers. 
Turn millions of images into a map
Turning millions of images into map tiles would take an eternity on a single computer. For finishing the job in a reasonable time manner, it needs to be divided into separated tasks and solved in parallel. It allows you to create an aerial map of the whole country or process continual stream of satellite images. 
For data processing, it uses the same technology as MapTiler Desktop in the background. However, MapTiler Cluster has a web interface, where you select the source of your images, set desired output options, format and the number of computers which will work on the task, and you can start the rendering.
Accelerate your work on a scalable cluster
While the map is being rendered on some machines, input files and output storage can be located on different cloud services. Our extremely fast CloudPush technology can transfer the data to various cloud storage services like Amazon S3, Microsoft Azure or Google Cloud Storage.
The master computer delegates tasks to various workers, which report back the progress status and when a task is about being finished, new data is sent.
The progress is written on-the-fly into InfluxDB for statistical purposes.
To learn more about MapTiler Cluster, visit our knowledge base.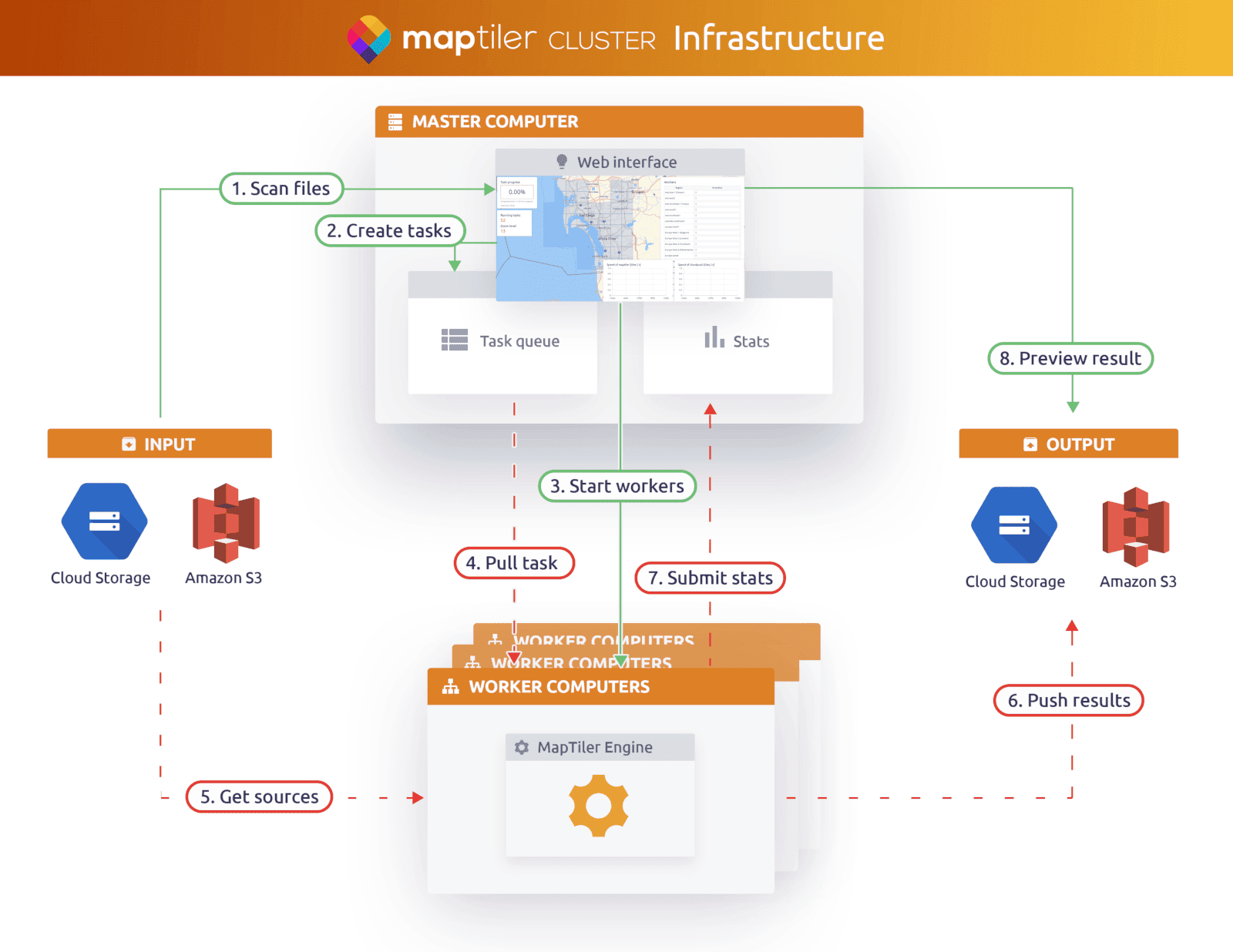 Available on Google Cloud or cluster of your choice
MapTiler Cluster is currently available on Google Cloud Platform Marketplace, where you can try it with a free license.
Our engineers are able to set up MapTiler Cluster on any public or private cloud infrastructure. Contact us if you are interested.