Google Maps API announced a change in their pricing. While it still starts with a free plan (reduced from 775.000 to 28.000 map views a month), the price for more intense usage grows hugely: the price hike hits unbelievable 1400% percent (from $0.5 to $7 for extra 1.000 map views). And even very low-traffic users with the free plan still pays with their end-users' personal data and have no control over the map. But we have an alternative. 
Free for personal use, fair prices for business
MapTiler Cloud support individuals with a free personal plan, where you have access to most of the platform's functionality. All the advantages of the free plan are available for open-source and open-data communities, which we strongly support.
We do not charge any extra fees for commercial websites or web app with login, use on an intranet, for vehicle or asset tracking (fleet management).
Free plan has a monthly soft limit of 100.000 map views, which is enough for most of the smaller websites. For the rest, we have fair prices.
MapTiler Cloud doesn't collect any personal information for further commercial use and it is not showing ads on the map, regardless of what kind of user you are. If you compare the prices, you can see the dramatic increase, especially if your project starts to grow. Our maps are available at a fraction of what competitors charge.
Monthly fees for commercial application with dynamic zoomable maps
| | | |
| --- | --- | --- |
|   | Google Maps API | MapTiler Cloud |
| 1.500 views/day | $125 | $20 |
| 3.000 views/day | $445 | $20 |
| 10.000 views/day | $1.650 | $56 |
| 30.000 views/day | $5.000 | $178 |
| 100.000 views/day | $17.000 | $605 |
| Targeting ads to your visitors | yes | no |
| Customization | limited | full |
| Self-hosting | no | available |
NOTE: Prices have been updated since 2018. Get the latest information here: https://www.maptiler.com/cloud/pricing/
Beautiful basemaps for the entire world
When you look at our maps, you will see fine details in every corner of the planet. The details you can observe differs depending on what map style you are using. There are six beautiful base styles, which are designed for showing your location, presenting your products on the map, car navigation or outdoor activity. But the whole process is fully under your control: if you want to create your own style from the scratch or just make some fine-tuning, there is a tool for map customization. You can change the color of an element or the whole map. But we don't stop with simple visual changes: you can also add or remove particular map elements like a specific type of points of interest. The map labels can be shown in more than 50 languages, including a bi-lingual option for non-latin alphabets.
Maps are fully under your control: you can add or remove any particular map element.
Those who want to enrich their map with extra geodata, we offer additional layers. There is a global satellite cloudless map, which we are constantly improving: currently, we are working on very high-resolution imagery for the USA and Western Europe. You can also enhance the map with elevation data with contour lines and hillshading. If this is not enough, you can always upload your own geodata and serve these from our reliable high-available infrastructure and integrate these your maps.
There is a basic place search tool, which is capable to find any populated place or street on the Earth ordered by importance - and we are going to add address and POI search in future.
We have also a solution for people with specific demands: if you want to run a map from your own servers, behind the firewall or even off-line, we offer you this option with our own OpenMapTiles.com self-hosting service.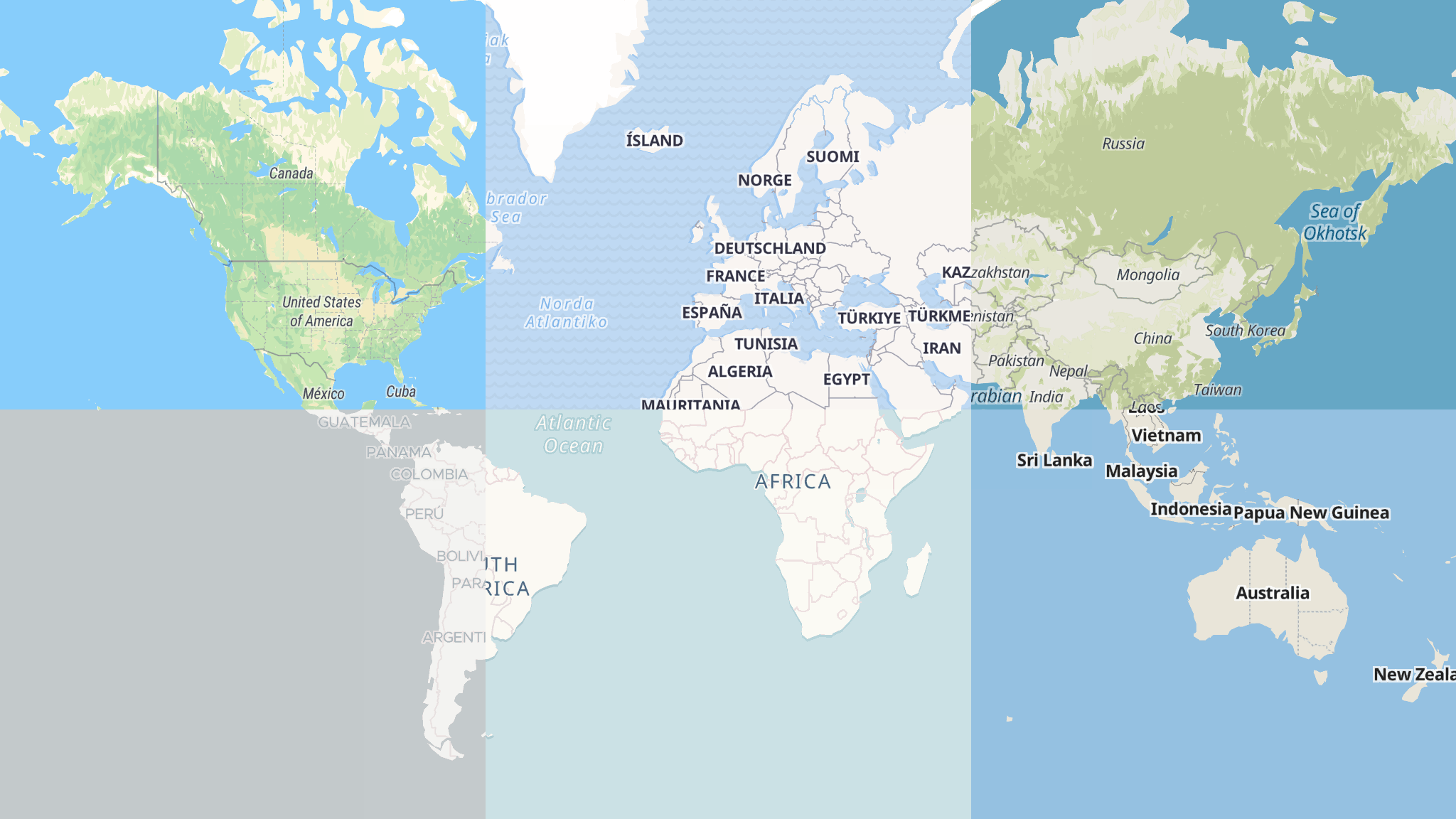 Different basic styles on one picture
Easy to switch from Google Maps API
Switching from Google Maps API is very simple: just delete the Google Maps code and replace it with a pre-generated code you get in MapTiler Cloud. That's it, now you have a working map!
Switch from Google Maps API to MapTiler Cloud in 1 minute
Depending on your need, you can choose what JavaScript library you want to use (we have a map code generator for Leaflet, OpenLayers and Mapbox GL JS), mobile SDKs, desktop GIS or if you want to have a map as a static image for print or graphic design. The recommended libraries and SDKs are open-source and therefore you have a freedom to change the provider at any time in the future.